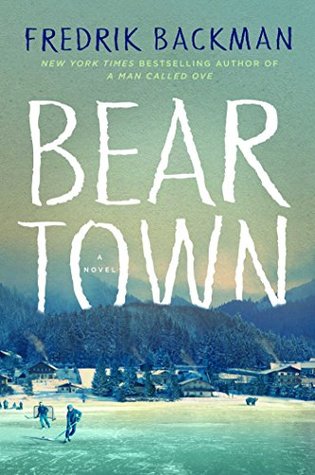 I LOVED this book! I have had it for a while. I would like to thank the publisher & Netgalley for reaching out to me and providing me a copy of this book. It has in NO WAY influenced my thoughts or opinions.
I decided to take this on vacation to break my reading slump. I read this whole book on the drive home. To be fair, we had to drive 10 hours. I love all his other books, besides Britt-Marie was here. I could not finish that one. Anyways, this is pretty different for his normal type of book. Don't get me wrong, it's not a bad thing at all. I'm going to try and write this without ANY spoilers.
I'm not a huge hockey fan. I went to my first game last year and I had fun. Not a big fan though. So, when I started reading and realized this book was about a town and their obsession with hockey, I was skeptical. I completely changed my mind about a chapter or two in. This book is so much more. I love that Backman did so many POV's in this book. You can see how different characters feel and why they make the choices they do. It's quite lovely.
This town is small and it's diminishing. They feel that their last hope to keep it alive is to make sure their hockey team goes all the way. It will bring the town back "on the board" so to speak. No pressure on these kids, right?! Wrong. Everything is hanging on this one game and they are not shy about letting the kids know how important it is. They will do anything to win. They let these boys get away with anything, so they can win. Morals and Rules go out the window because there's no way they can be punished. The pressure starts to get to some and they don't handle it well. Then one night, one decision changes everyhting. You have these dominoes that start to fall and they hit every person in the town.
This book does start off a bit slow but I'm used to his style. Trust me, keep at it because it will be absolutely worth it. This book tackles some very deep issues and it will make you feel a lot of emotions. Joy, sadness, anger and make you question everything, even humanity as a whole. It may seem like fiction but this book is very real.
I love this book just as much as, A Man Called Ove. I recommend that one to everyone and I will with this one too. This book moves you and makes you think. I loved it and I'm sure this review is awful because I'm still mind-blown. I'm definitely a huge Backman fan and can't wait for the next book!