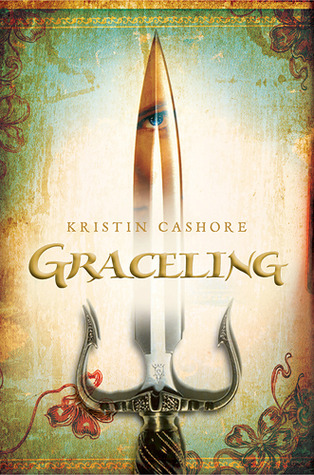 This book sat on my book shelf for over 4 years. Why? I have no idea. I forced myself to add it to my readathon list.
What could be more exciting about a girl, Graced with a killing ability…or so she thinks?! She's awesome and theirs secrets and lies in the kingdom. What could be more intriguing than that!?
It was a slow start. For some reason, I had a hard time getting into this book. I liked the story but I didn't love it. I feel bad because a lot of people love this but it just felt short for me. It was just an okay read for me. There are somethings that I liked and some I didn't.
I liked how Kristin tried to portray feminism with Katsa. It's totally great that she didn't want to get married or have kids. The most amazing part is that she stuck with it. Sometimes girls in books will say that but change their minds by the end. Although, I did not like that she hated long hair and dresses. Just because you are a feminist doesn't mean you don't like dresses or long hair. It's not really what it means. It makes me sad that many authors are trying to portray that to YA audiences. It's so much more.
I did not like the romance between Katsa and Po. I did at first but then it happened way too quickly for my liking. Yes, I know.. It's YA and they all have "intsa" love. This one just didn't feel right. I don't think I liked their vibe.
I really liked Bitterblue. Even though, some of the things about her just seemed like a bit of a stretch. I would have liked to know her a little more. I guess that's what the sequel is about.
The best part of the book for me is the last 1/3. Most of it was predictable but it was enjoyable. Especially, when they are in the mountains, trying to get to safety.
Even though, it wasn't my favorite, I will continue reading the other two books.