Goodreads Monday is hosted by Lauren's Page Turners.  All you have to do is show off a book from your TBR that you're looking forward to reading.
I'm REALLY trying to tackle all the books I own and need TBR. I've gotten through a few but then there's all these new and beautiful books coming out, constantly. I'm still trying to force myself to really attack my shelves. So, this is great and makes me remember why I bought it and wanted to read it so much. Here's a book I'm really looking forward to on my TBR list. 
I've been seeing this posted all over. I recently purchased the second one with my HPB haul. I just posted about it (Check it out :)). 
Scythe by Neal Shusterman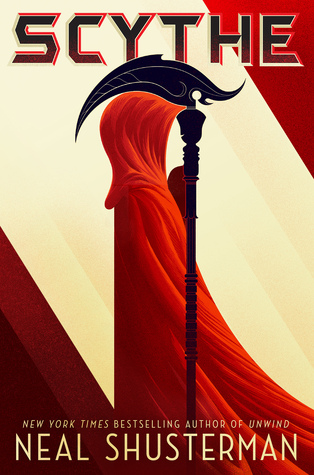 Scythe by Neal Shusterman
Published on: November 22, 2016
435 pages
Thou shalt kill.
A world with no hunger, no disease, no war, no misery. Humanity has conquered all those things, and has even conquered death. Now scythes are the only ones who can end life—and they are commanded to do so, in order to keep the size of the population under control.
Citra and Rowan are chosen to apprentice to a scythe—a role that neither wants. These teens must master the "art" of taking life, knowing that the consequence of failure could mean losing their own.
Have you read this? What did you think??