Top 5 Wednesday is a weekly book meme that was created and moderated by Lainey but is now hosted by Sam (not me). If you want to find out more about this group/feature or if you wanna join in on all this fun, you can visit the Goodreads group here!
Here are my top 5.
Favorite Sci-Fi & Fantasy in Other Media:
1.  Star Wars movies:
I admit, when I was younger, I disliked them. It wasn't the stories or anything like that. Mostly, because my father LOVED them and ANYTIME they were on, that's what was on the TV. Back then, there was no DVR.. so when it was on, we watched. It didn't matter if it was a 24 hour marathon, that's all that could be playing. What kid wants to watch 3 hour-long movies over and over, when they are being forced? Don't get me wrong, I could choose to not watch and do something else. lol Now, I kind of feel bad because I love them. My husband is a huge fan AND when Adam Driver (love him in Girls) was cast as Kylo Ren, I decided to watch. I was hooked. So since then, I've been Star Wars obsessed and have re-watched all the oldies. My husband and family are over-joyed. Now, we go see the new ones as a family. It's become quite the tradition and it's so fun!
2. Supernatural 
Here's another show that my husband converted me to. He loves this show so much and I never really paid any attention. Then with the rise of Netflix. We have this deal.. He picks a show, then I pick a show. We have to give it at least 2-3 episodes before we decide it's a NO. So far, we've both watched everything we have picked! It's a lot of fun and it's really broaden both of our horizons. I love this show. It's got all kinds of humor, heart, sorrow, hope and can be intense. It's basically the fight between good and evil. The devil vs. God. It's very good.
3.  Doctor Who
This is another one of my husbands picks. It took a lot longer to get into.. a whole entire season but now I love it. My favorite will always be Matt Smith. I loved the overall story line that connected. David Tennant was also great and he's a VERY close second. I am SO excited for the next Doctor, Jodie Whittaker. I love her in Broadchurch, so I'm excited for this!
4. Stranger Things
I love this. I never thought I would really like it. It didn't seem like it would be my thing. I'm telling you, it's so so good. The husband and I both love it. We actually bought Christmas sweaters and took our yearly photo in them. It was the lights from Stranger Things. It was quite a hit. We have recommended it to a few people and they all love it. I'm not sure if this is more fantasy or science fiction. Maybe it's just a lot of both?! The kids make this show. My favorite is Dustin for sure, he adds a lot of humor to an intense/dark show!
5. Wonder Woman & Marvel World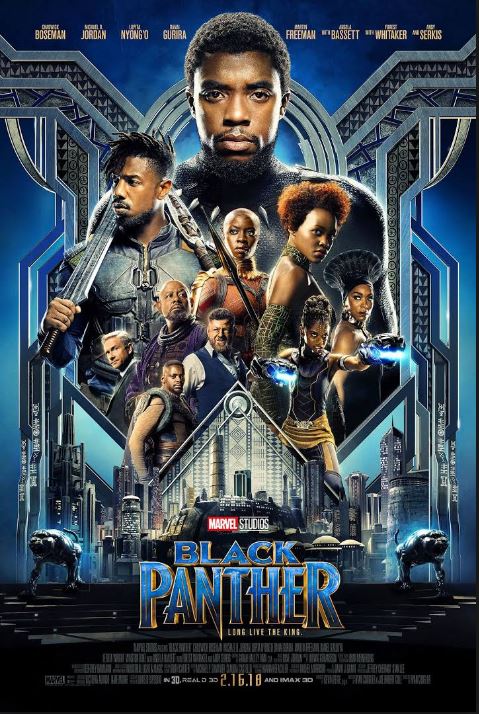 Okay, I know that these are from comics but you can't argue that they are fantasy/science fiction-y. People with powers? If that's not fantasy then I don't know what is!  These movie are a huge part of our culture and I enjoy them so very much. By far, Wonder Woman is my favorite. Who doesn't love Greek mythology and the awesome-ness of WW! I love the whole Marvel world but my favorite one out of all of them, has to be Black Panther. It was so awesome and I loved seeing their culture and the women were AMAZING!
What are your favorite Sci-Fi & Fantasy in Other Media?! I'd love to know. Share any with me? Any to recommend? Comment below! 🙂