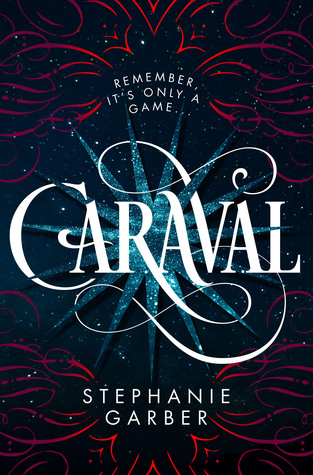 I've read a lot of good books lately and this is one of them! I didn't know what to expect because there's a lot of mixed reviews.
"Remember, it's only a game…" or is it?
Summary:
This is a story about two sisters, Scarlett and Tella. Scarlett is the more reserved one and Tella is more wild and bold. They both dream of getting off their tiny Island and away from their tyrant father. Scarlett has spent years sending letters to Legend at Caraval, for them to come to their Island. One day, years later, she finally gets a letter back. Inside are three tickets; one for her, Tella and her fiance. It turns out that this year, Caraval is revolved around the sisters. Scarlett has five days to save her sister. She must do and become a person that she's not used to being. She has to decide what is part of the game vs. what is real. 
Yes, this book has a carnival/circus theme and really reminds me of, The Night Circus. From the very beginning I was drawn into this story. The plot flowed so smoothly and I couldn't put this down. I flew through this book. The story is just so enchanting and a mystery! The whole time, I kept trying to read behind the lines! I really didn't figure out was happening. One minute, I thought I had realized what was going on, to find out I was way off. There's a lot of twists and turns but not too many that you get lost.
I loved Julian. He was my favorite character. I kept trying to figure him out and I really did enjoy his banter with Scarlett. There is a quote that Scarlett uses to describe him and I find it perfect:
"She imagined loving him would feel like falling in love with darkness, frightening and consuming yet utterly beautiful when the stars came out."
I also really liked Tella, I wish we would have had more of her in this story but I imagine she will be a major player in the second book.
I did feel like the ending was a bit anti-climatic and a little safe. It's okay though because we are left with a pretty good cliffhanger. Come on book two!