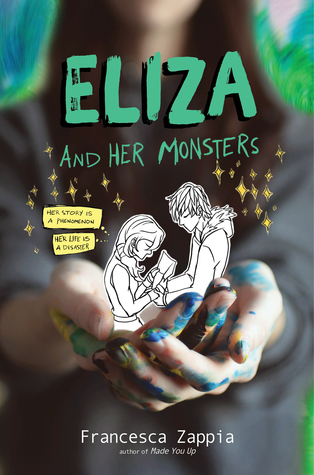 4.5 stars
I loved this book so much. I'm normally not a big contemporary reader but I'm trying to branch out. This book was phenomenal!
Eliza Mirk is shy and an outcast at school in real life. Online, she's an anonymous creator of a popular webcomic Monstrous Sea. She has this huge fandom where she spends most of her time. Her best friends are people that she's never met. They help her out in her forum and doesn't have a single friend outside of this. Then one day, Wallace shows up and changes everything. Eliza starts to come out of her shell.
I started this book and read it all in one sitting. It was such a gripping story and I could not put this down. It did take a little bit to get there but once it does, it will not disappoint.
One of the things that I loved the most was that there was some light shined on mental health and anxiety. I suffer from anxiety and I'm not sure if that's because I'm shy or if it's WHY I'm shy. I'm an introvert and so is she. I totally could relate to her in so much of this book.
I also loved Wallace so much. I'm glad that he was able to understand he had his own problems and eventually needed help. His relationship with Eliza, I loved so very much. Their love was slow and so cute.
It was also good to see the relationship with her and her fans. How being famous isn't all it's cracked up to be. How she learned to deal with that. I really felt so bad for her parents but, at the same time, it wasn't totally their fault. She should have been more open with them. A lack of communication is common in everyday life, really.
This book is one that will stick with me. I enjoyed all the drawings and chats throughout the book that really helped with the overall theme.