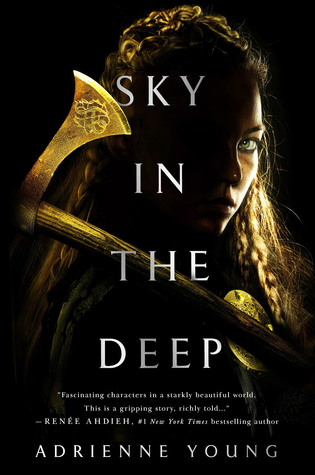 Expected Publication Date: April 24, 2018
4.5 stars
This is a viking inspired tale. Eelyn is devoted to her clan, the Aska. She's a fierce warrior and fights against the Riki, their enemy. One day, she's on the battlefield and thinks she sees her brother, who dies 5 years prior, fighting with the enemy. She is then captured by the Riki, when she was trying to follow her brother, Iri. She then learns that there's two sides to every story and maybe they are not so different.
This story caught me from the very beginning and didn't let go. Adrienne Young has a way of capturing you in the story. I read this book so fast, maybe 4 hours. It's a fast paced book that made you feel and see what they did. There is a lot of action and it is actually how this book starts out.
I loved Eelyn so much. She's strong and loyal to the bones. She doesn't understand what Iri is thinking and feels betrayed. She sticks to her beliefs but isn't dumb enough to see that things are not always black and white. Her character really grows because she starts to see how the Riki are more like the Aska than anyone thought. They are people, they are human. She learns to forgive and trust.
I really wish that we got a dual POV in this book. I would have loved to read what Fiske was thinking throughout the story. I loved his character so much. He comes off as cold and uncaring from the beginning, but there's so much more to him. I also loved Halvard. He had a big part in helping Eeyln, in more ways than one.
This was a great read. I really liked it and the story. I love how it's not romance driven either. It's a slow love. I think that I like this so much because it's a stand alone! It's so rare.
I want to thank Netgalley and the publisher, St. Martin's Press & Wednesday Books for an e-ARC of this book to review.