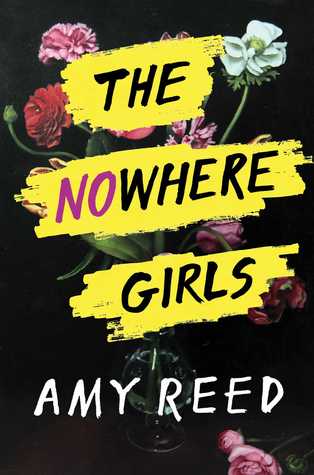 I picked this up because a couple people recommended it, since I liked Moxie. It did not disappoint.
**TW**This book covers some very serious issues: Rape and Sexual Assault
Three girls take it upon themselves to start "The Nowhere Girls" and then the consequences they face after the fact. They want justice for Lucy, who was raped the year prior. All three boys walk around like they own girls and Lucy has left. Grace moves into her home and sees her words written on her walls, Help Me. These three girls start a huge movement that makes a big impact.
I really loved the characters in this book. Grace is a new girl at Prescott High and is portrayed as being "fat" and a Christian. What I love about her is the fact that she sticks to her beliefs. She pushes herself to do the write thing, when it puts her in the spotlight, which she doesn't want. I loved the fact that her faith plays a huge part in her life and decisions but she's really open minded.
Rosina is probably my favorite! She's tough and from a huge Mexican family. She is also into girls. She is going through a lot. She has to work a lot at the family restaurant and is trying so hard to find herself. It's hard though, when so many family expectations are on her shoulders. Her mom is tough and only her way is the right way.
Erin is has Aspberger's and anxiety. I loved her so much. She's coping with a trauma from before but then is trying to cope with her new relationships. We get to see how she feels and that really brought something to this book. I especially loved the fact when she learned to lie. Not because she was lying but because people underestimate her since she's on the spectrum.
The friendships these girls build is just so lovely and refreshing. It's so diverse and this ugly thing brings them together. I love how they grow and support each other. Not only these three but a lot of the other girls. They still have their clicks but are more open to each other.
Now, this book was a quick read but there was so much content. I think she might have taken off a little more than she could handle. I would have loved to learn more about the "US" characters and Amber. I feel like we didn't really get to explore more of her. I was also a bit disappointed that she didn't show more growth. I kept thinking she would come around but then she just kept hanging onto boys, I guess that's more realistic.  At times, the book felt like it was moving too slowly.
Overall, this was a great book and it has an important message to girls, boys, men and women. Thanks to the people who told me that I would like this if I liked Moxie. Both are great books and have strong messages. Also, makes you want to carry on the girl power!