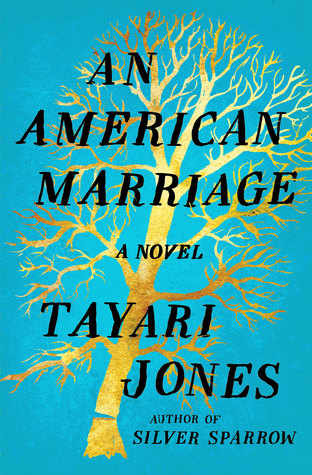 3.5 stars
It's so hard to get my heard around this book. It was really good but I have such mixed feelings about it. It's such a tragic story and I felt so depressed and sad at the end. This is a great book for book clubs. There's a lot of discussion that can happen because this is a very thought provoking read. Warning- This review is going to be a hot mess.
Roy and Celestial are newlyweds, who are at the wrong place at the wrong time. They are a young couple who are living the American Dream in Atlanta. They are only married 18 months, when Roy is accused of rape and thrown into jail for 12 years. He's innocent but it doesn't matter. Celestial finds it really hard to deal with the prison life, so to speak. She is becoming really successful and hiding her husband from the public eye. She soon starts to take comfort in Roy's best man and her childhood friend, Andre. After five years, Roy's sentence is overturned and he's free to go. He wants to resume their life together but Celestial has already moved on.
This book is character driven and is narrated in multiple POV. There's also a good chunk of pages that are just told by letters to each other. The letters were so heart wrenching, the longer he's been in jail.I just knew what was going to happen and I didn't want to face it, neither did Roy. You can just feel the anguish.
Even though, this book takes a look at race and the injustice of it, it's not the main focus of this book. It's the marriage between Celestial and Roy and how far does loyalty reach. How unfortunate circumstances have thrown their life array. Prison starts to drive a wedge between the couple and we don't know if it's so big that there's no chance for recovery.
I was not a fan of the ending. I think I was more confused than anything. Why would she decide that? Did she think that's what he wanted? Of course not! Actually, I don't really think I was a fan of Celestial, now that I think about it. I really disliked her, so it was hard for me to connect to her and understand why she did what she did.  My favorite character was definitely Big Roy, Roy's father. I also really disliked Andre too. I'm sorry but married is married. I don't care what the circumstances are.
So, I thought this book was good but not as great as everyone says it is. Maybe it's because it just left me feeling depressed, I don't know. I liked it but it wasn't great.