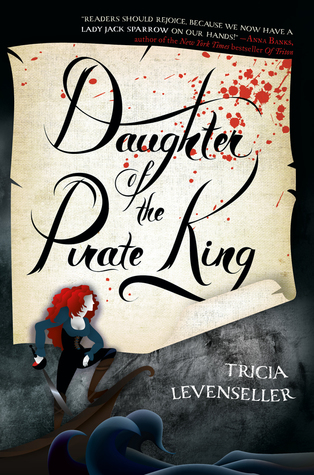 3.5 stars
I was back and forth on whether I would read this book. I saw a lot of mixed reviews. I actually enjoyed it. There were only a couple of things that I didn't like, keeping me from giving it 4 stars.
Alosa, is a pirate and even better, daughter of the pirate king! She is on a mission to retrieve a piece of a map. She allows her to become captured and then spends time on the ship, trying to find this map. She plays a game of wits with Riden, the first mate. They of course, become enamored with each other. Will she find the map or will Riden discover her secrets first?
I loved Alosa! She was fun, witty and knew how to kick butt. I really liked that she was really caring. She didn't want people to be treated unfairly or unkind. I loved her banter between she and Riden. It was a lot of fun and made me laugh out loud at times. They were really similar and so I liked Riden as a character too.
What I didn't care for was the romance. It was just too instant and too forced. I feel like since this is a duology, why not let it be a slow burn? It's such a shame because I loved both of them and they are great together but I just didn't care for it. It just rubbed me the wrong way.
Okay, so I understand that her supernatural abilities are supposed to be hidden and then towards the end they are revealed. I wish she would have let US in on the secret before hand. It felt like there were two different books here. The first half, where she's a kick butt pirate, then the second half, where she's a siren. It just threw me off a little bit and it killed a bit of the flow for me. I see a lot of people saying she's like Jack Sparrow. Nah, I don't think so. She's fun and interesting but that's where the similarity ends.
Overall, I enjoyed it. Like I said, I was between 3.5 – 4 stars. So not bad at all. I just had some small issues. I totally plan on reading the second book! It was a fun, light read. 🙂