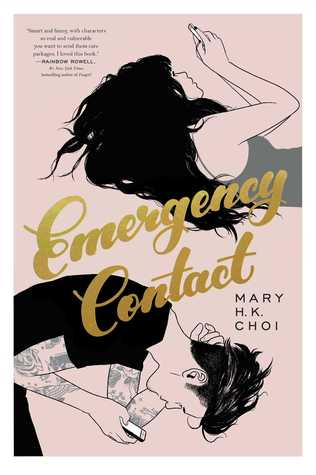 I LOVED this book SO much!!! I read it so fast because I could not put it down. It might be my favorite book of the year, so far!
Penny Lee is basically living a shell of a life. She didn't care about school, friends and her boyfriend didn't even know her. She's now going to college at UT in Austin, Texas. HOOK 'EM HORNS!!! (So, my team. I'm originally from San Antonio) Anyways, she's trying to deal with her new roommate, her mom, and classes. She then meets Sam and things start to change. She starts to come out of her shell. She and Sam swap numbers and almost all of their contact is through texting. They call each other their Emergency Contacts.
Mary Choi did a fabulous job with this book. I thought the writing was impeccable and the story was just amazing. It was a really fast read because I could not put this book down. I started it last night and the first thing I did this morning, was pick it up and immerse myself into this story. Good thing, I thought to set it on my night stand last night. This story is told in Penny's and Sam's perspective. It's amazing how these two introverted people bloom in their conversations with each other. They talk about everything and don't have up any walls. They go deep at times.
I loved Penny Lee so very much. She's awkward and can be really cynical. I loved that she's always prepared with her bags. HAHA! I'm so glad that she was able to really grow and find her place. You really got to see more of her personality when she starts writing.  Sam was also wonderful! He was so complicated and I felt so bad for this poor guy. He's going through a lot and trying to become a documentary director. I wish we could have delved a little more into that. Anyone else really want to go to a bakery after reading this?! The things he made just sounded so good and made me crave some sweets! lol
Okay, now to get personal for a moment. Something that REALLY made me love this book so much more, is bringing TRYPOPHOBIA to life. I've talked to about this to several people and they think I'm crazy. Penny Lee, also has it and when she brings it up, I literally gasped! I couldn't believe it. I have posted it on all my social media accounts, if you follow me. You've seen it a few times. haha. It's real and it sucks. Trypophobia, is a condition where you get grossed out or scared/anxious of irregular or regular holes in clusters or circular patterns. It's very unnerving and it really stresses me out. For example, a lotus pod is one that really triggers it. Thank you, Mary Choi!
This story is really relevant to our world today. Everyone is so immersed in social media and we are always on our phones. A lot of people today, feel much safer talking through text, versus face to face. I know that I tend to do this sometimes. It's that barrier that makes you feel safe. I highly recommend this book. It was fun, sweet, deep and I enjoyed it so much!