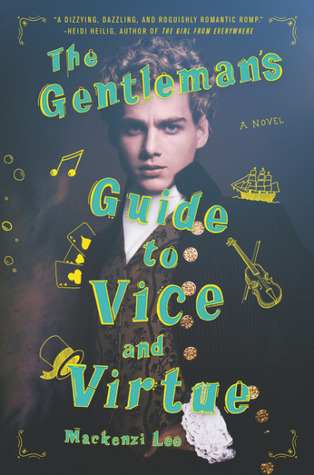 I have a hard time writing this review. I am trying to get my thoughts together. Really, I loved this book. It was a lot of fun.
I really enjoyed this book. It was light, full of adventure and really funny. This is a big book but I didn't feel like it took away from the story. It flowed really well and I got though it rather quickly. I loved the characters so much. SO MUCH. This is where the length of the book really helped you know and love these characters so much.
Monty was my favorite character. He was hilarious and so much fun. You couldn't not love him. He was also very broken and has a very heartbreaking past. It made me just want to hug him. He puts on this act that he's cocky, selfish and doesn't care about anything. Really, it's further from the truth. He's bi and helplessly in love with his best friend.
Felicity was my second favorite character. She was such sassy, confident and really smart!  She saves these boys butts over and over. From the beginning, it seems that she just keeps her head in books but there is so much more to her. It's so fun to watch her grow into herself. She kicks butt and I loved her so much.
Percy was so sweet and caring. This poor guy has to face so much but he handles it all so well. It's really inspiring.  I loved the relationship between he and Monty. I was also heartbroken when I found out he had epilepsy and that he planned to spend his life in an asylum.
Together all three of these characters were perfectly balanced!
The author does a great job making a fun, adventure story but also touching on some really hard subjects. There's a lot about hardship, sickness, abuse and sexuality. These kid are trying to find their way and learn who they are.
My one issue with it, is the ending. I didn't really care for how it wrapped up. It's such a long book but the ending felt really quick and kind of unfinished. It might just be me but I expected a little more time with that ending. I am really looking forward to the next book, which I think is in Felicity's POV.