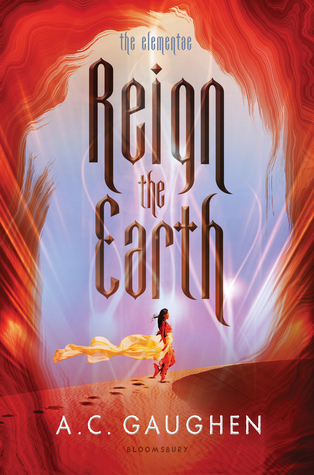 Okay, why on earth have I not heard more about this book?! Reading some of the reviews, I get it.. It's dark and can be depressing but it's brilliantly done.
I usually do my own summaries but I'm going with Goodreads on this one. I don't even know how to explain this one. My head space is crazy.
Blurb from Goodreads:
"Shalia is a proud daughter of the desert, but after years of devastating war with the adjoining kingdom, her people are desperate for peace. Willing to trade her freedom to ensure the safety of her family, Shalia becomes Queen of the Bonelands.
But she soon learns that her husband, Calix, is motivated only by his desire to exterminate the Elementae—mystical people who can control earth, wind, air, and fire. Even more unsettling are Shalia's feelings for her husband's brother, which unleash a power over the earth she never knew she possessed—a power that could get her killed. As rumors of a rebellion against Calix spread, Shalia must choose between the last chance for peace and her own future as an Elementae.
This intense, richly drawn high-fantasy by the author of Scarletwill hold readers spellbound. "
I loved this book so much. I had a plan to actually do some adulting today. I was like, I'll only read 100 pages today and then be on my way. 100 pages in… okay, I'm about half way and this story is just gone crazy. Maybe 50 more pages. I didn't stop until I finished it. No regrets.
There are some dark topics in here. So, beware of that going in. I'm talking sexual assault, emotional abuse, and violence. It can get brutal and hard to take.
The characters in this book are amazing. Shalia is strong and caring. Not only that, she never lets her beliefs go. She's thrust into the center of a dangerous game and place. Yet, she earns the love and respect of those around her. Well, except for the villain. Oh gosh. He was horrible and quite terrifying. Still… she's amazing and she will not break. I love how everyone sees her soft and sweet but in the end she is so much stronger for it.
"I am a daughter of the desert, and my feet will never fail me."
The plot doesn't really pick up until about the middle of the book. I think in this case, it's totally okay. We are really getting to know these characters beforehand and that really helps us throughout the rest of the story, especially about Shalia. I think that the world building was really good BUT I really want to know more about the Elementae and the history. I think that's what's going to happen in the next book though. We get some more info at the end that really will open up this world more.
This book is emotional and heartbreaking. I'm not going to lie. I was very upset with some of the things, but I think it just makes Shalia all the stronger, in the end. It's also something that a lot of people go through. I'm glad that Gaughen does not romanticize it at all.
"True power does not force others to make themselves smaller."  
^^^YES^^^