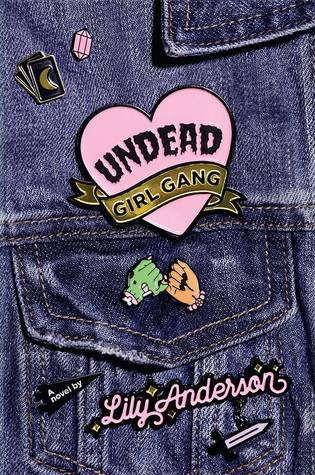 I've seen so many booktubers talk about this book. I'm not sure why. I enjoyed the book enough but it wasn't anything that blew me away.
This is a book about friendship and a mystery mixed in. A girl finding her way after the loss of her best friend. She delves into magic, to bring back her best friend, since she's convinced she was murdered. They have 7 days for these girls to find the murderer, before they go back.
I liked the concept of this book but I just don't buy it. A girl who didn't show any magical aptitude is suddenly so powerful? Also, she doesn't really believe in it but yet… she's amazing at it. Nope. I also wish that they would have been more like ghosts and less like zombies. The mental pictures were not good. haha.
I did enjoy the Undead Girl gang.  I really liked how these girls who didn't like each other alive, band together to figure out what is going on. I liked them all together and there were some moments that were really sad and really funny. The friendship that came about was really nice.
I liked Mila and I loved that she was Mexican but I hated that it's only stated. For example, there have been some books lately with Mexican characters. You can tell throughout the whole book, not just the beginning, that they are Mexican. I'm talking from the way she speaks, the food she eats and so on. I would have liked more of the cultural influences. I am probably just biased because I am Mexican. I honestly wouldn't have known she was, if it wasn't stated early on.
Overall, this was entertaining enough but I had issues with it. I think I was expecting to get a lot more from this book.