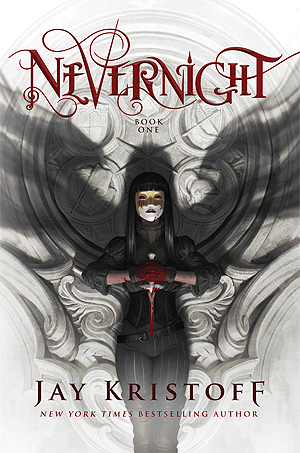 WOW. I'm so glad that I finally picked up this book. I did a buddy read with Sara @ The Bibliophagist ! It was a lot of fun and we are now reading book two! I've been putting this review off because my thoughts are just all over the place. Good Luck! haha. 
Mia is an ultimate badass. I was trying hard to use a different word but that just describes her so well. She's been brought up to become an assassin. Her father was killed before her eyes, when she was younger. She was then ripped away from her mother and brother. They tried to kill her but she had some help. She's a darken, which we are not really sure what that means yet. We do know, she has a shadow daemon called Mr. Kindley. She can also control the shadows and darkness. Her power starts to really come about later in the book. Turns out, she's pretty powerful. Mr. Kindley communicates with her, drinks her fears, keeps her nightmares away and is her friend. He's a lot comic relief because this book is dark. He's really enjoyable! 
This book is her journey to get to the Red Church, where she can study to become a Blade. Becoming a Blade means that she will be the finest assassin and one step closer to her revenge. I did get some Harry Potter vibes when they were in school. Not much because this was obviously way more brutal. Mainly, in their poisons/potions class. These kids want to be murderers, no wait, they are murderers. You see that a lot throughout this book. It is brutal. 
There's also a romance. It's a good one too that starts as a friendship and is like a slow burn. I love those because they just mean more. It also keeps you on edge the whole book. They are both competing to be the top of the class, what do you expect will happen? I loved Tric. He was so good for Mia. He's so sweet and caring! He's like a hidden badass though. To most, he doesn't seem like such a threat but he can be. I really enjoyed the relationship that he and Mia shared. 
My biggest issue with this book are the footnotes. Some of them are relevant and have some fun commentary. Although, I started to find them really tedious. Some of the footnotes were longer than the actual plot on the page! A lot of it was just names and places that I will never remember. I did find that they pulled me out of the story and it was hard to re-connect quickly. I'm not going to lie, I started to skim them toward the end. Most of them were just not that relevant to me. 
Overall, this was great from the get go. It's full of a lot of action, exciting, scary, brutal, dark and entertaining. I had a VERY hard time putting my book down everyday!! I'm sure that Sara felt the same.