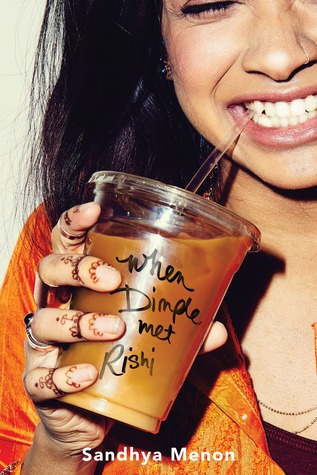 This was our book club pick for this month. I have heard mixed reviews on this book and it kind of made me hesitant to pick it up.
Dimple just wants to live her own life. She craves independence and a career. She wants to go to a summer program to get a taste of what it will feel like in college. It's also a huge deal to win because it can kick-start her career. What she doesn't know, is that her parents have an ulterior motive. There's a boy, Rishi, who knows they are being set up but Dimple has no idea. 
Dimple becomes furious and doesn't want anything to do with him, yet she can't help herself from being around him. If she ends up falling for him, will it derail her life goals?
This was a cute contemporary but I had some issues with it. There were some things I liked and some that I didn't. 
I really didn't care for Dimple. She was so mean to her mom. I understand that she's a teenager but she just got angry and didn't communicate. She was also really rude to Rishi. She would unleash her anger on him and it was completely misplaced. He didn't deserve that because he was such a nice guy! She was also very controlling! She didn't even give Rishi a chance to voice his opinions on their project or their talent show. She decided and told him what to do, even if he had objections. 
Speaking of Rishi, I liked him. I did find his absolute life plan a bit annoying at times but it happens. I just thought he was so nice to Dimple when sometimes he shouldn't have stuck with her. 
I did love the culture that I got to read about in this book. There's not a lot of books out there with Indian American characters. It was refreshing and A+ for diversity! 
I figured this book would be a quick contemporary read. Nope. This book was slow-paced and it took me a lot longer to get through than it should have. I really didn't like how I was less than 100 pages to the end and we barely made it to the half way mark of their program. Literally, the last 50 pages is the last 3 weeks of the program, plus the ending. There was just way too much time spent on the beginning of the story and the ending was so rushed. The plot of this book was a bit confusing because it just revolved around Rishi and Dimple, mostly Dimple. There's a great opportunity to shine a light on something that most people know nothing about, coding. It didn't seem like it took much work. Most of the time they are not working on it but just going to dinner. Missed opportunity, I think. 
It was cute but I would really suggest many other contemporary books over this one. I can't wait to discuss this one at book club! haha.