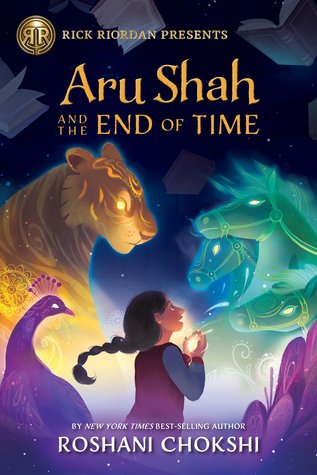 Okay, I'm prepared that I'm going to be in the unpopular opinion. I struggled with this one.
I liked Mini. I thought she was funny and really was the strongest of the two. I think she found some confidence and I was really happy that she did. I did not like Aru much. She was a bit bratty and I hated how she kept saying that she lied all the time. Although, she turned it into imagination. I get it… you have an imagination but it doesn't make it right to lie to everyone around you. I did think that she and Mini did make a good team and I liked that. Sisterhood is great. For the most part, the characters are very one dimensional.
I also liked Boo and his answers to Aru's sarcasm. It was funny.
I thought the Indian mythology was such an interesting concept BUT I didn't get enough of it. It was a bit confusing at times and there was just  not enough explanations. I would have loved more expansion on this, since it's supposed to be a huge part of the book. I feel like it missed the mark on something with huge potential here.
I love the whole 5 sisters idea and the girls actually being the demigods, instead of boys. It's quite refreshing right? I really was intrigued by the idea and it could still be great. I just don't know that I'm going to be reading the next book.
I was really unsatisfied with how things ended up with Aru and her mom. After all that, she still doesn't discuss anything with her? How in the world can you say there's a lot to talk about and then ignore it? She's part of this huge world, where she's going to be in training, yet there's no discussion about it. I find that really unrealistic!
I think my biggest problem was that this was VERY middle grade. It read that way and I think it bored me and kind of annoyed me. It felt like it was trying too hard with all the references and jokes.
It was a cute story and it had so much potential but I just couldn't really connect with this one. I know a lot of people love this but it was not a book for me! I had a hard time rating it but decided to be generous, since I didn't hate it.