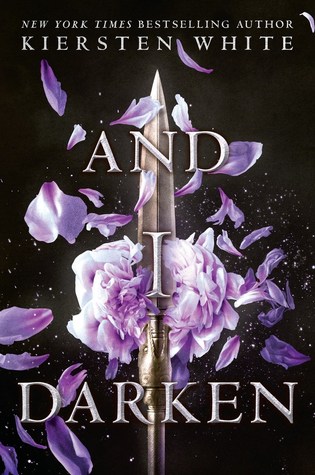 This is one of the prettiest book covers! ❤ Unfortunately, I didn't care for the inside as much as I thought I would. I think I need to take a few days off from reading. I might be heading into a slump.
This is a big book and with that I felt bored a lot. The pacing was just so slow. I really loved the beginning of the story, when they were kids. I found it really interesting and was expecting a lot more when they were older.
Unfortunately, I really disliked Radu. I could not get over his constant love struck thoughts. The whole book he's doing everything and anything because he's so in love with Mehmed. He even knows that Mehmed and his sister, Lada have a thing. Yet, he turns to hate his sister and STILL fall all over Mehmed. Um, dude… it takes two! I just got really tired of reading the same thing over, how much he loved Mehmed. He could do no wrong in his eyes. Yup, Mehmed does plent wrong.
Lada on the other hand was my favorite character! She is brutal and yet she does not let love stand in her way. She sticks to who she is and what she wants. She will break her own heart, if it's to do what she feels is right, for her.  She's strong and fierce but still able to love. She has a different way of thinking that was nice and refreshing. She takes what she wants and has no regrets. I was constantly rooting for her! I wish that we would have gotten only her POV and I probably would have loved this book so much more. She was a rather entertaining and interesting character to read.
By the end of the book, I really disliked Mehmed too. I really do think he knew how both Radu and Lada felt and kind of played it to his advantage, especially Radu. He sometimes pushed the boundary with him. I was really annoyed about how he loved Lada so much but still was popping out kids with his "concubines" every 5 minutes. It's "duty," Please *rolls eyes* I just didn't really care what happened to him, either way.
I think that White did a great job writing about Eastern Europe and all the religious aspects. Although, she did not impress me with all the politics. It took a huge chunk of the book and I felt like I was just reading the same words over and over. It was really boring and I found myself wanting to not continue. I will not be reading the rest of the series. I liked this book okay but not enough to continue. At least, this is one book off my actual book shelf completed! Yay!