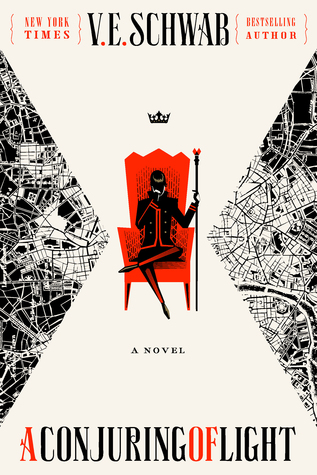 I am so sad that this is at its end. I will miss these characters. Thanks to Brittany @ Perfectly Tolerable for doing a buddy read of this whole series with me!! It was a lot of fun and just the momentum I needed to finish this series! I will list all of her reviews here:
When this series first started out, my favorite character was Kell. By the time, I finished this series, it's now Alucard. He is amazing and I totally love him and Rhy together. In the second book, I was pretty upset with his decision to break Rhy's heart. In this book, you learn why and it's the saddest thing. I think one of my favorite moments is how/when he's revealing it to Rhy. I am trying so hard not spoil anything! Anyways, he was a great addition to this series and he really pulled his weight in this book. I absolutely love his banter with Kell and Lila. He's just so funny and witty. He's my fave!
Kell and Lila's relationship up to this point, wasn't really based on love and more on magic. Not so much in this book. I was a bit let down with the fact that they were only wrapped up in each other at times. Mostly, I was a bit let down by Kell's character in this book. I wanted and expected more from him. I also feel like we didn't get a resolution with him, you will understand if/when you read this one.
Holland was a surprise. He is a huge factor in this book. We learn so much more about him and his past. It's quite heartbreaking actually. You definitely learn why he has done the things he did. By the end of this book, he's not really the villain in my eyes anymore. I was rooting for him and hoping that he finally could break the chains. He's always had to deal with being tied to someone and never truly belonged to himself.
Rhy was awesome in this book. He really stepped up and I became to respect him so much more. He really grows as a character and I appreciated that.
The world building is still great and so is the magic. I loved the magic! This is a big book and sometimes I felt like there were times that the plot just wandered, to fill up some pages. I did think the ending was good and liked where most of the characters ended up. I feel like there are some things that were left a little open. Also, does anyone else want Kell's coat?!? Because I totally do!  Anoshe.