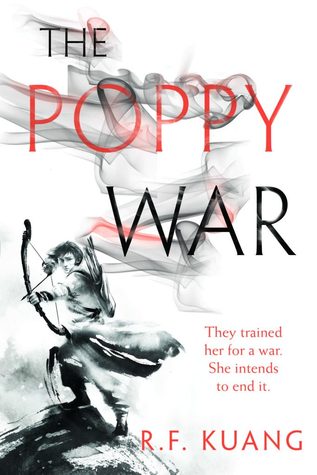 I was extremely excited to get my hands on this! I have been seeing this all over the place. This book is quite a monster, in the fact that it is dense. It is a slower read because there is just so much information. Personally, it was on the verge of being too much. It was really complex with the magic and religion systems that were mixed in.
There were so many things that I liked about this book. I think I'll just do a list type review today. My thoughts are really just all over the place and it's probably going to be easier on both of us!
♦ The school of magic/military training was so interesting. I really loved it and I flew through these chapters.
♦ I really enjoyed the magic system. It was really complicated and different than anything I've read before. The Spiritual world was just so cool.
♦ I really loved the relationships that Rin has formed throughout this book. She's so brutal and very creative in her war tactics. Yet, she formed some really deep relationships with her master, mentor and couple friends from school. It humanized her a little bit. This book is dark and brutal, like really brutal.
♦Rin was awesome. Her character development throughout this book is just fantastic! She grows so much and learns who she is and what she believes. What impressed me most about her character was that she never gave up. She was always willing to fight even when everyone thought she would fail. She makes some really hard decisions because others would not. Her character is definitely morally grey because she is ruled by vengeance.
♦ There is NO love triangle!!!!! How refreshing and better yet, there was no romance at all! There are only male/female friendships, which is amazing for a book these days, not even in a subplot. I won't say that there wont be one in a future book but this one was all about the action and not about romance. If you are the type of person, who has to have romance, this is not for you.
Now some things that I did not like…
♦ I think the time that Rin spent at the school just went rather quickly. There were times that we flew ahead two years. I wish that we could have seen more happen and more growth there. It felt really premature to just throw her into battle without the proper training.
♦ I wish the time that Rin spent with Alton and their little army was also expanded on a little more. By the end of the book, she's supposed to have these relationships with them but we don't really see much interaction with them in the story.
♦ I was not the biggest fan of the graphic descriptions of rape and dismemberment that happens in this book. There's a part that they arrive at a city and there's description upon description of the way people were "creatively" killed. It was hard to stomach.
Overall, this was a great debut novel! It did get a little too dark at times but the rest of it totally outweighs that. I can't wait to read the next book. This one did an amazing set up and I can't wait to see what Rin is up to next!!