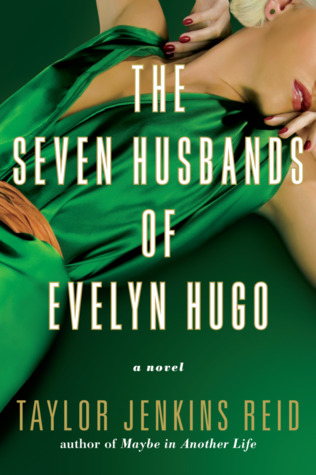 Wow. I have seen this book all over the last few months. It was really hard to get my hands on but this week my library hold finally arrived! I was so excited about this one and it usually scares me. Hype can really disappoint. I'm so glad to say, this one does not! I read this in one sitting because I could not put it down. I still can't stop thinking about it. I'm going to try so hard not spoil anything! 
Evelyn Hugo is one of the best characters I have read in a long time. She's come from nothing to make her life into something. Her drive to make sure it played out how she wanted, was just fascinating. Her seven husbands are what people talk about when it comes to her life. She's labeled a slut and rushes into marriages without thought. It couldn't be further from the truth. We get a look into each marriage and why things happen the way they did. I am just stunned. She's ruthless but has so much heart. All people see is scandal but Evelyn is so clever about what she wants them to see. Even though, she can be totally ruthless, I admired her. It was hard for me to not respect her and feel for her, by the end of this book. She's just written brilliantly. 
I was so interested at what game Evelyn was playing with Monique. I didn't quite trust her and knew that there was something else going on, just like Monique did. The connection was just mind-blowing! I was so so shocked and I did not see it coming. 
I was so invested in these characters. Taylor Jenkins Reid's writing is so well done that I kept thinking this was a real biography, rather than fiction! I loved all the relationships that Evelyn had. Oh my gosh, this book just pulled at my heart strings. I couldn't help but be in tears at the end. This is a stunning book and I am just in awe. 
The ONLY thing I didn't like about this book was the cover. I would have never picked this book up on my own and that would have been a tragedy. This book deserves all the hype it's getting. ❤