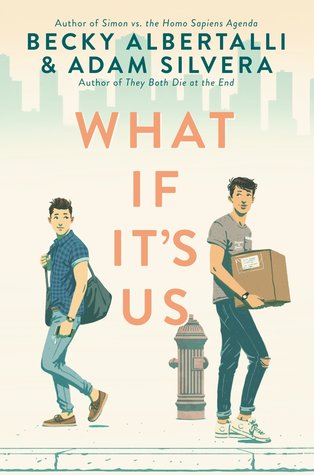 Release date: October 9, 2018
I loved this so, so much. I was super fortunate to get an ARC of this yesterday! I was currently 50% in an ARC that I've been trying to finish, my last one. I just couldn't read it anymore because I knew this was downloaded to my kindle. I told myself, I'll read like 10% to just get a taste for it. HAHAHAHA. A plan that totally failed. I read about 20% last night before bed. I woke up this morning, started and didn't move until I finished it.
This is the cutest love story. It's got a lot of cheese in it but I didn't mind it at all. It was a bit predictable but most contemporaries are, to me anyways.
Arthur and Ben were not perfect. They both have their issues and getting together was not easy. I LOVE that they recognize this but decide to work at it. Relationships are messy and not unicorns and rainbows. It was so refreshing. They were both so complex, especially Ben.
There was so much representation in this book! Arthur talks about his ADHD and being Jewish. Ben is Puerto Rican and struggling with what that means to him. Arthur is rich and wanting to attend and Ivy league school and Ben is not and in summer school.  Not only that, the differences between their parents marriages is awesome. I love how they showed that marriages can be different but the love is still there. Relationships vary and you can't really judge one against another.
Another thing that I really was impressed with were all the supporting characters! I loved them all!! The friends of both guys and their parents. It's so rare for me to love both sets of parents in a book. These parents were so amazing and I don't know which I loved more. I hope that I can be as awesome, one day. I love how we get to see friends that struggle and try to overcome the past. The support system these boys have is amazing. The friendships on both sides are just beautiful.
I've seen a lot of people complain about the ending. I will not spoil it but I think that it was done perfectly! I really liked it because it's so much more realistic.
It's so hard to write this review and not spoil anything. If you get anything out of this, it would be to just read this book! It's a really great one that will make you happy. There's also a lot of Harry Potter and Hamilton references too.
HUGE shout out to HarperCollins and Edelweiss for providing me with an e-ARC of this book!! :):)