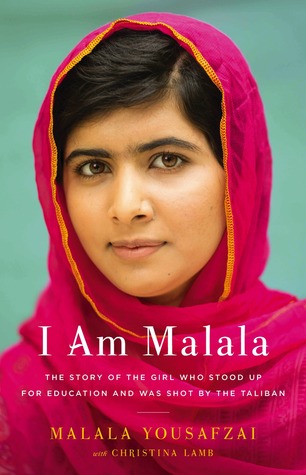 I have been wanting to read this forever! So glad I finally read it. Guys, I have to say that I feel like I've wasted my life. I'm 31 years old and this girl (at 15) has been through more and done more, than I have in all my years. We take so much for granted and this book does a great job at making me see that. I mean, I know it but this just shoves it in your face. I just got up to get a glass of clean, filtered water. Not everyone can do that.
There is a lot of history and a lot of detail. She tells you all about Pakistani history and it was interesting. It did make the pace a bit slow for me. It was really great to see so much of her culture though. I feel like I learned a lot about Pakistan that I never would have.
Oh my gosh, Malala's story is pure inspiration. This girl, who has won a Noble Peace Prize, is amazing. She has so much courage and will do whatever it takes to stand up for her rights. All she wants is for peace in her country and that girls should be educated. Education is really important to her and I agree. It just takes one student, one teacher and one pen, to change the world.
Her life is just so heartbreaking. She loves her home but there's so much poverty and it's overrun with Taliban. They are short on food and supplies. I'm in awe of her parents. Her dad is also a huge advocate for education and built a school in their home. He had nothing and did all he could to make something. He encouraged Malala and never held her back.
My only issue with this book is that I wasn't sure who was telling this story. There was so much political talk and influence that I lost a lot of Malala's story. I was expecting a lot more of her and her story but there are times that it was lost. She would be talking about an instance in her life and all the sudden we are learning about politics. I think I would have enjoyed this much more if there was less of the political angle. I get that it's important but even a few chapters without it would have been enough of a break.
I really enjoyed this one and I am now googling what she is up to…