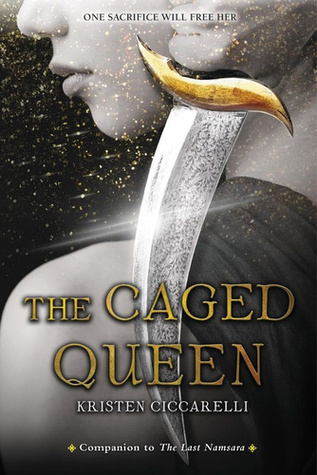 ---
Before I talk about the review, I have to talk about this cover. I love both of the covers she's had in this series. They are so simple but gorgeous!
I really enjoyed this read. It's one of the first books, in a long while, I was able to start and finish without putting it down! It's such an interesting story and I was completely invested. I really enjoy the world that Ciccarelli has created in this fantasy series. This is a bit different because we follow a different set of main characters. You get a little big of the previous characters but not much.
I really like Roa. She is dealing with a lot and she's taken on the world. I did get a bit frustrated with her at times. I get that it creates drama and intrigue to have characters have a lot of wrong information but it drives me crazy. All they have to do is ask! Communication is key and would be so much easier on these characters. Regardless, I really felt for her because she goes through a lot in this book. I really enjoyed learning more about her and her past.
I really, really like Dax. I love how he puts on a foolish persona but you never really know if it's true or not. I think he's a really complex character and I loved watching his and Roa's romance unfold. Again, I wish that they would have communicated much sooner!!
One of my favorite things was that we get snippets of what has happened in the past. I loved that! There's so much more to what's going on between her and Dax. Seeing things play out in the present that have explanations from the past was interesting.
Something that I was not too happy about was the lack of Dragons! They are so important in the first book but take a back seat in this one. We don't really get much of them until the end. The communication thing and the dragons are really my only complaints. I really enjoyed this book and I cannot wait for the next one!
---