Top Ten Tuesday is a weekly feature hosted by That Artsy Reader Girl. Each week there is a new topic for bloggers to choose and list their top ten. This week's theme is Top TEN Books I Hope I Find Under My Christmas Tree This Morning. 
Merry Christmas!!! If you celebrate. I hope everyone is having a happy Holiday! ❤
---
Queen of Air and Darkness by Cassandra Clare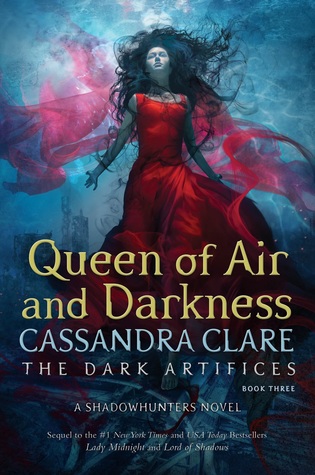 I actually have a library copy but I put this on my list. I have all her books and need this one!
---
2. Words of Radiance by Brandon Sanderson
I have a problem. I hear about these amazing series and then I tend to collect the books without even reading the first one. I'm HOPING that I love this series. If not, I think my husband will. I was able to get book 1 super cheap on bookoutlet. Then book three for super cheap at Half Price Books. I couldn't find book 2 for a good price, so put it on my Amazon wish list. Crossing fingers that I love this series!!
---
3.  Rich People Problems by Kevin Kwan
I need to read this! I've tried to get this from my library twice now!
---
4. The Tex-Mex Slow Cooker  Cookbook
I also love cookbooks. I usually just get them from the library. Ones that I know I will use a lot of the recipes, I then want to purchase.
---
5. Simple Green Meals Cookbook
I love their Simple Green Smoothies Cookbook! My husband and I used that one all the time. If you love green smoothies, check that one out!
---
I added some pre-orders to my husbands list…
6. Darkdawn by Jay Kristoff
---
7. Kingdom of Ash by Sarah J. Maas (paperback)
---
8. The Wicked King by Holly Black (read it but need to own it)
---
9. Children of Virtue and Vengeance by Tomi Adeyemi
---
10. Imprison the Sky by A.C. Gaughen
---
I will be happy to find any of these under my tree! I do know that it's mostly my husband and a friend or two that will actually buy me books! I hope that you get what you want under your tree! Merry Christmas <3<3<3<3