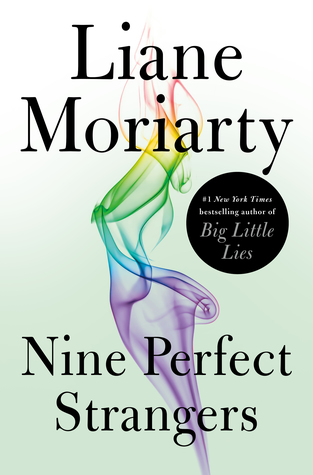 ---
Okay, I'm a huge Moriarty fan but I'm starting to wonder if it's going down hill from here. I did enjoy this book but about 150 pages in, it's where I got a little lost and felt like it just fell flat for me.
As a psychologist major, I was really intrigued by the concept of this book! There are nine strangers, who want to change their lives in some way. What way can they do that? Well book a health resort for 10 days. It's the perfect way to drop some weight, fix your marriage, change the way you see your life and just be happy. Right?
I really did get immersed in all these characters and their stories. Some of them were a bit more interesting than others but you will have that. Moriarty takes her time giving you their backgrounds and what is really going on underneath the surface. I don't want to ruin any of that because it's not apparent at first.
I was thinking that this book would be about some of these characters finding deeper meaning and really getting along with each other. Forming some kind of bond that helps them realize things about their lives that they couldn't seen on their own. That's what we are being sold but then it takes on a sinister spin. I was really just not buying it. The head of this health resort gets really out there with her methods. I just felt the ending was so blah. All this stuff happens but it's all tied up neatly? There's really no negative outcomes from what happens? I mean… some people figure things out but I'm talking about having some serious mental issues with what happens to them.
I just found it to be way too out there. This is not like any of her previous books at all. I'm not sure if that's what part of the problem was for me. It just took a spin that I was not expecting and I did not like it. I did enjoy most of the book, about 3/4's of it.
I think, if you go into this one with a REALLY open mind, and don't expect it to be like anything she's ever written before, you might enjoy it more than I did.
---