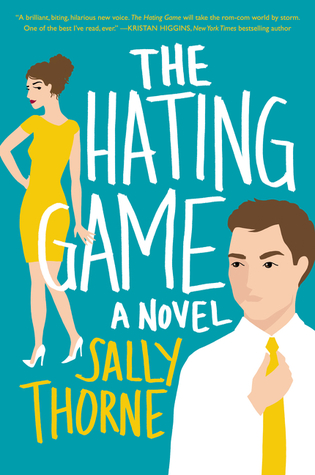 ---
Thank you, Sara. I would not have picked up this book, if it wasn't for you talking it up! This was my first book of the year, and I hope the rest of the year is just as good!
I am not typically a romance reader. So, I become really hesitant when I see them  being talked about. I had so much trouble getting off the wait list at the library for this one. I finally got it and opened it up. I read this in one day. I really just couldn't put this down. It would have been a one sitting book, if I didn't have to adult things, throughout the day.
My absolute favorite thing about this book is the banter. It was funny and even if it was a bit cruel at times. I just found myself really seeing what these two were going to do to each other next. It just made this book interesting.
I have to be honest, I wasn't a fan of either one at first. They were both so mean but then you learn more about them. There's a lot going on behind the scenes. I ended up falling in love with both characters, especially Josh. Wow, you just never know what someone is going through.
My only little complaint is that this book is so predictable. You know from the start that they hate each other because they are so into each other. I figured out the whole wedding aversion and just everything. It didn't take away from my enjoyment. I just wish I was a little bit surprised at times.
Overall, I loved this book and I still can't stop thinking about it! Guys, the blue in his room. ahhh! Just, wow! Read the book and then you will totally understand what I mean! If you want a light and fun read, this book is for you!
---