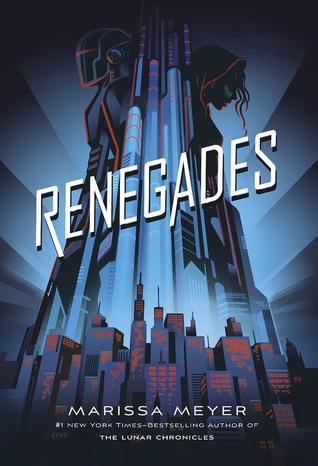 ---
I loved the Lunar Chronicles and was really excited for this book. I had heard some positive reviews but it's quite a big book. It sat on my shelf for a while.
I really liked the characters in this book. There is such a huge diverse cast here and it was really nice. It might be one of my favorite things about this book! Some of these characters are the superheroes and some are the villains. It makes for a very interesting mix! To be honest, I'm not quite sure which side I'm on. I feel like they are both bad and good.
I did really like the fact there are points of grey area. Everything isn't just black and white. At least, our main protagonist, Nova, is really trying to point that out. No one is all bad or all good.
I did like the romance or the hint of it. It's very slow and not anything like instant love. There's instant attraction or wonder but they aren't completely in love, at first sight. That is really refreshing!
I actually had a lot of trouble with the pacing in this book. WOW, this book was slow. I actually fell asleep two times trying to get through this one. I tried to blame the pregnancy but I think it was just the material. It was a lot of repetitiveness and too much detail at times. I just felt like we never really went anywhere with the plot. This book felt so long. It does not pick up until the second half of the story.
Speaking of the plot… I really felt like a lot of nothing happened! I got to the end and was thinking, what the heck did I just read? Didn't seem like much, really. I just felt like so much was lacking and there was so much potential. I didn't hate it but I'm definitely really disappointed!
The story has me interested enough that I'm going to jump into book two. Some of the things that happened at the end, makes me want to just dive in. I'm a bit worried because I've heard it's not as good as the first book. So…. Yikes! The concept is there but the execution not so much. I'm hoping the second book doesn't make me fall asleep! lol!
---