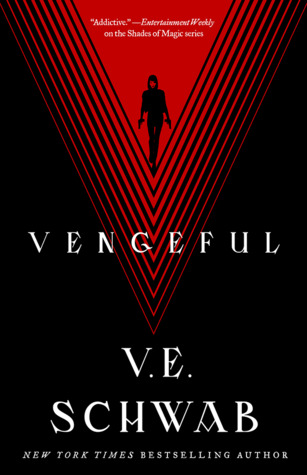 ---
I really enjoyed this one but I was slightly disappointed. Don't get me wrong, it's a great book but I had really high expectations for this one! 4/5 stars is still a great read. 
What I liked:
I really loved Sidney's character development in this book. Honestly, she was pretty much the only character with a great overall story arc. She really grows up in this book and it was great to see. 
One of my favorite things about these books, is the way that Schwab can make you fall in love with morally grey characters. Victor is definitely not a good person but he's not entirely bad either. It's just so confusing how I completely and utterly root for him to win. haha. I do love how everyone is treading that line. Although, some do tend to cross it a lot. I guess, that's what you should expect with a book about villains! 
Schwab does a GREAT job jumping from characters and timelines. We are constantly jumping back and forth between the past and present. With that in mind, it's always different characters too. She does it so great that I never got lost. I love getting the contrast and seeing the journey of all the characters. 
The writing was great and the plot was really interesting. I didn't really see that ending coming. Although.. I have some issues with that ending…
---
What I didn't like:
Although, I enjoyed the new characters that were in this book, they didn't feel fully developed to me. Marcella was such a terrifying villain and I enjoyed her for the most part. I just felt like there was something lacking in her character development. I also felt the same about June. She was interesting and I would have loved to learn so much more about her. I appreciate the badass women representation in this book but I wanted more from it. 
I wish we would have had a lot more Victor. He's definitely my favorite and I feel like we didn't really get too much of him in this book. I found myself really missing him!
I did enjoy the plot and had no idea where she was going with it but it felt slow at times. I would have liked a little more action.
The ending… I felt unsatisfied with it? I was wondering.. is this it? I just didn't really love how she chose to wrap things up. I also don't like the fact that it's pretty open-ended. I'm not sure how to take that! 
Overall, this was a good book and I enjoyed it! I just had high expectations and a little sad that it wasn't a 5 star read for me. I would still recommend this if you loved the first book! 🙂
---