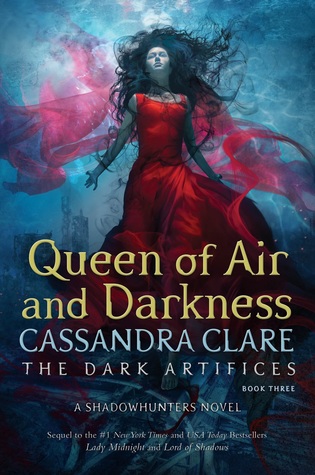 ---
It took me a lot longer to get through this book than I wanted. It's such a HUGE book, coming in just under 900 pages! Yowza! I had huge expectations for this book because I loved the previous two. It was a good book but it kind of fell short for a couple of reasons.
What I liked:
I loved the story arcs of all the main characters. There is a lot going on and so many characters but I loved seeing so much growth in a lot of them. There are some issues I had, which I will talk about later. I'm just so in love with all the Blackthorns though! ❤
I actually really liked the Thule section of the book. It was different and interesting. I liked seeing what would have happened IF things would have gone differently in the past.
It was a good conclusion to this spin-off series but we are left with a cliffhanger- not sure how I feel about that. I felt a lot of emotions, especially when it came to TMI characters at the end. Ahh. Malec!
I LOVE all the faeries in this book. I wish that she would explore that more because I find that world so fascinating. I mean, who wouldn't?!
The artwork mixed throughout the book was an awesome touch! I really enjoyed that.
What I disliked:
It's time to let the TMI characters go. I know, we all love them and it's fun to see them reappear BUT it was too much. I felt like the last 1/2 of the book made the main characters more of supporting characters. As much as, I loved seeing their happy endings, I think they had too much of a role in this book. I really wanted more from the Blackthorns. I think, that's why I liked the Thule so much.
This book is huge and I feel like she could have done without a lot of it.
Ughhh.. the ending… the last 1/3 of the book, really. The ending was SO anti-climatic, after all that build up. It left me really disappointed. I also felt like everything tied up just way too easily and nicely. I really don't quite know where the whole parabatai giants came from. It felt a little out there and hard to believe.
The epilogue… not really a fan of that one.
Overall, I enjoyed this one and I thought it was a good sorta-conclusion. I just had such high expectations and it didn't really hit them. It's okay though, I still love the Shadowhunter world and Cassandra Clare!
---