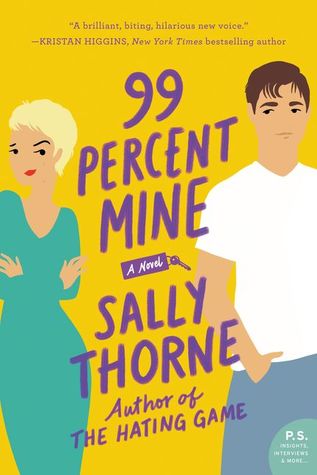 ---
I really loved The Hating Game by Sally Thorne. It took me a little long to read this one. I was approved for an e-ARC from Edelweiss and was so excited! Shortly after, I was admitted to the hospital and had to put a lot of things on hold.
I had read some really mixed reviews about this book and went in with an open mind. I thought it would really help me, not have really disappointing expectations.
I did enjoy the fact that this is about long life friends, as the main love interests. I always love those kinds of stories. I did like Darcy at first. Especially, when she was in the bar. I thought I was going to love this girl. Unfortunately. that didn't last too long. She just started to drive me crazy. I don't know if it's because of personal experience but the fact that she was completely ignoring her heart condition, drove me INSANE! My husband has a heart condition and had to have open heart surgery. It's a serious thing. She goes two years without going to the doctor, has expired medication, drinks excessively, and eats so much sugar. Does she want to die?
There is a lack of depth when it comes to the characters and the overall plot. I wasn't even sure there was a plot? I feel like the whole book took place in 2 days then jumped to months later. The ending was insanely rushed. I never really got to know Tom. All anyone keeps saying is that he's the perfect, most amazing guy. Why? I need details! I would have also loved to know more about this wedding that ruined her career. She showed up drunk? Was that it? I felt like her reaction was really immature, in regards to one negative review.
I did think this was a really quick read and I did like it. I just didn't feel like it wasn't anything special. I am still open to reading more from this author!
Thank you, to Edelweiss and Harper Collins – William Morrow Paperbacks, for providing me with an e-ARC to this book!
---