---
Rest in Peace, Naya
As most of you know, Naya passed away a couple weeks ago. It's such a tragic accident and it's been so heartbreaking for so many. Even if you didn't watch, I'm sure most of you have heard of Glee. I didn't start it until Cory Monteith passed away (R.I.P). I fell in love with Naya's character, Santana. She was an inspiration for a lot of people but I loved her story arch.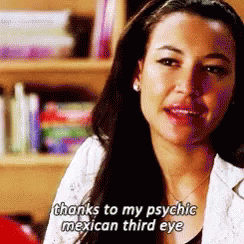 With her passing, I decided it was time to read her book. I listened to it as an audiobook, which I'm finding is my preferred way to read memoirs. It's even better when it's narrated by the author themselves. It's so hard to rate a memoir because they are so personal. This was a pretty great one though. I learned a lot of things about her that I didn't know.
She grew up in the spotlight and she talks about how she learned a lot of hard lessons early. Guys, she's been through a lot of stuff! She's so honest and raw in this book and I appreciated that. There are some things that she was really naive about. For example, you can't really have a perfect marriage and partner. Since I'm reading this so late, obviously that wasn't true since she has divorced him. Her love for her son was so obvious though. I mean… she died for him. ❤
I also appreciated that she didn't just make this a huge book about trashing Lea. Actually, there's not a ton about Glee in this book, which is actually okay.
Overall, I really enjoyed this and I don't know if I would have felt the same before she passed. I felt like I got a little bit more of her and maybe that's what I loved so much. Regardless, I had a great time getting to know her better. If you want to get a little more of her I highly recommend the audio book!